Farm Shares are a form of Community Supported Agriculture (CSA), a way for the community to become "member-investors" who receive a portion of the farm's harvest every week. For decades, CSAs have supported small-scale farmers and strengthened local food systems. Members experience the seasonal fluctuations of the farm's produce, a process that teaches consumers more about the natural cycles of food production. Farms benefit by receiving upfront, steady income from members, minimizing some of the risks that come with small-scale farming. At Grow Dat, all Farm Share proceeds support our youth program, which nurtures the leadership skills of teenagers employed in the meaningful work of growing healthy food.
Duration: Farm Shares run for 29 weeks, from November 6, 2019 - June 27, 2020.
Pickup: Members are responsible for picking up of their weekly produce box at our farm site in City Park on Wednesday evenings (4-6pm) or Saturday mornings (9am-12pm); members may choose pickup day while availability lasts.
Important Note: Farm Shares will be suspended during the following: Thanksgiving week (November 27 + 30), winter holidays (December 18, 21, 25, 28 and January 1 + 4), and the week leading up to Mardi Gras (February 19 + 22). If you or a friend can't pick-up your box for a given week, you have the option of donating that week's share to Grow Dat youth and their families.
Memberships Include: Your share will consist of a variety of vegetables and herbs sustainably grown on our farm and will change on a weekly basis. One share will generally supply a family of 2-4 for a week (depending on a family's weekly vegetable intake).
Important Produce Note: This CSA best serves salad and greens lovers!
Each week share members receive a box of produce that will regularly include what we like to call "the base of the box:"
a ¼ lb. bag of our signature salad mix,

one bunch of kale,

one bunch of chard OR collards OR mustards (farmer's choice based on availability) and

fresh herbs.
In addition to the weekly "base," you will receive seasonal herbs and vegetables including basil, beets, broccoli, carrots, cauliflower, celery, cucumber, eggplant, beans, leek, mustards, green onions, hot peppers, potatoes, radishes, sugar snap peas, squash, cherry tomatoes, tat soi, mulberries, ginger, turmeric, turnips, zucchini and more!
Bellegarde Bakery's Country Sourdough Bread

($6/weekly loaf purchased for the duration of the season)
Love fresh bread? We've teamed up with local Bellegarde Bakery, one of the few bakeries in the country that mills its own wheat to produce fantastic sourdough breads. Members have the option of adding on to their weekly farm share a petit loaf of their delicious Country sourdough bread, great for sandwiches, French toast and just plain with butter! Learn more about their bread at: www.bellegardebakery.com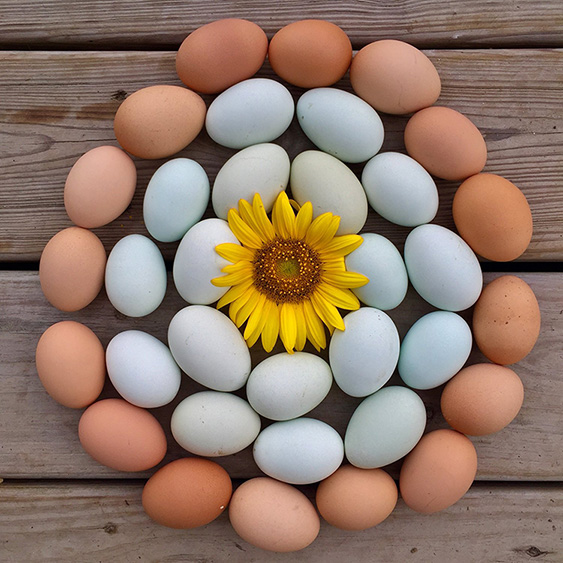 Local Cooling Farm's Pastured Raised Eggs
($6.50/weekly dozen, purchased for the duration of the season)
Local Cooling Farms raises chickens on pasture year round, moving mobile coops every 4-7 days to give the birds a fresh supply of grasses, other plants and mostly importantly, bugs and worms to forage! They can dust bath, bask in the sun, take short flights, scratch in the soil to their hearts' content and generally behave like all chickens should. Studies have shown that chickens raised on pasture produce eggs that are higher in Omega-3 fatty acids, beta carotene, vitamins E and D, "good cholesterol, " while lower in "bad cholesterol." And they taste better, too! Dozens packed for Grow Dat are a mix of medium, large and jumbo sized eggs and a mix of shell colors from the numerous breeds in the flock. Learn more about their eggs at:
https://www.laughingbuddhanursery.com/pastured-eggs
Shares and pickup-dates are allotted on a first-come, first-serve basis.
Read our Terms of Agreement to learn more about becoming a member-investor in our farm, see a more detailed description of pickup procedures, crop availability timeline, payment procedures and farmer/member commitments. Once you have thoroughly read through this information, you may register, pay, and become a member! If you're ready to sign-up, just click the Purchase now button below and choose your membership option.
We're thrilled to have you become part of our farm and community!

* SNAP recipients receive a 50% discount off total!
Please contact Leo Gorman for more details about SNAP registration 504.616.1777
Crescent City Farmer's Market
Saturdays, Fall 2019
8am–12pm
750 Carondelet St, Warehouse District
At our booth at the bustling downtown farmer's market, you'll find youth employees selling seasonal produce and answering questions about our programs and growing methods. The market accepts cash, debit/credit cards, EBT, and Farmers Market Nutrition Program vouchers. Check out crescentcityfarmersmarket.org to learn more about the market's initiatives to make produce more affordable and accessible.
For more information, contact Cassie Reeves.
We are proud to sell our sustainably-grown produce to local wholesale customers. Our grocery clients include Whole Foods and the New Orleans Food Co-op. We also supply many of the city's finest restaurants, including the Donald Link Restaurant Group, the Ralph Brennan Restaurant Group, Pagoda Café and Café Mondo.
Kale, chard, arugula and Grow Dat Salad Mix make up the bulk of our wholesale product line from November to May. Prospective customers should contact Farm Manager Leo Gorman to inquire about crop availability, price points and ordering info.